The L-Space Web : fandom : afp : afparty : hedgehogs
---
The afp 10th Anniversary Hedgehogs
---
"An old Gypsy recipe is to roast a hedgehog within a clod of clay, and eat under starlight, with the fingers.
Mine is to run the bloody thing over whilst on the way to get fish and chips."
Bernard Pearson
---
Bernard Pearson wishes afp a Happy 10th Birthday
Bernard 'Ridcully' Pearson, co-founder of Clarecraft, dubbed the "most Cunning Artificer" by one Terry Pratchett (a writer chappie, we believe) on account of his amazing 3D representations from the Discworld, and known to fans around the world for his greatly sought-after figures (not to mention his figure), buildings, plates and many other limited edition Discworld artifacts, has been inspired by the occasion of afp's 10th birthday to create two completely new and decidedly special figures, based on everyone's favourite insectivore.
Yes, indeed: that is not one but two special afp hedgehog figures, just for us. And he is cutting his own throat, as you will agree when you see the price tags.
The figures will eventually (exact date of arrival unknown, but Real Soon Now) go on sale at Bernard's web site, and the price is to be kept to approximately £5 a piece. Which we feel is incredible value for these 'real Bernards' and will hopefully enable everyone who wishes so, to buy one. Or two. Or several. Each figure is expected to be available in both painted "leave it to the experts" and unpainted "do it yourself" versions.
On this page, we have put up photographs of Bernard's actual prototypes for the two figures.
---
Figurine the First - The Three Wise Hedgehogs
Bernard writes:
"Three hedgehogs in a cartoon raunchy style holding placards with A F P on them in raised letters. The subtext being hear no evil, see no evil, speak no evil. The positioning of the arms is conveying this message, like the old three wise monkeys."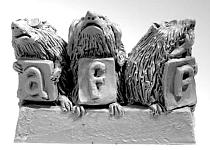 ---
Figurine the Second - The Shaghog
Bernard writes:
"Simply a small hedgehog engaged in furiously shagging a computer."
Yes, well, many of us can empathise with that...
---
Frequently Asked Question
Q: So Bernard, why exactly are you doing this?
A: "When approached by certain members of afp to fondle a bit of wax into a cunning form I did so under the impression they would not broadcast my jolly jape of putting a live hedgehogs in the underpant as part of my art installation during the last Wincanton Arts Festival.

I had been led to drinking cloudy cider by callus members of afp in Uncle Tom's Cider house just up the road, and I was not feeling myself. The reverse was true however when I sobered up and no matter if I was offered an Arts Council Grant to do again, I won't, so sod the lot of you. Any pictures they show are a cunning forgery dreamt up by that bugger Leo, so there.

And I'm only selling the models so cheap out of the goodness of my heart. Not because they have other pictures that Isobel will slaughter me if she sees."
---
Bonus
To provide an extra peek into the creative process underlying Bernard's figurine designs, we also have put up the original sketches for the hedgehog figurines - including the two possibilites that didn't make it in the end.
The Afparty effort and web pages are coordinated by Karen/hypatia and Leo Breebaart,
who always welcome suggestions, questions and new afpmeet organisers and attenders.
The L-Space Web is a creation of The L-Space Librarians
This mirror site is maintained by The L-Space Librarians