The L-Space Web: Fandom
---
Warwick 1.0
---
Welcome to the Warwick 1.0 blackmail picture file.
Warwick 1.0 was the first large afp-meet to be held in Leamington Spa (Situated between Warwick and Warwick University, hence the name) and was jointly organised by myself and Mike Knell.
Feel free to read the announcement of this glorious event and the report of events that occured.
But now on to the main event - the pictures...
All pictures are 768x512 (or 512x768) colour Jpegs,
If you wish to have high-res copies of any of these feel free to contact me. The originals are 2048x3072x24bit.
Enjoy - Robert Collier <rob@lspace.org>
---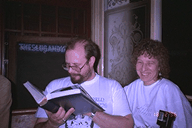 warwick-01.jpg: (75436 bytes)
The Bellingman and the Goddess show off their afp-meet photo album.
---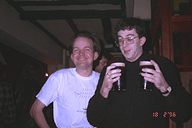 warwick-02.jpg: (70418 bytes)
Mark Lowes to Darrell Ottery - "Thats a nice pair"
---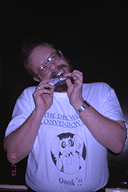 warwick-03.jpg: (66167 bytes)
The Bellingman once again demonstrates his incredible power over peanut packets.
---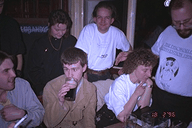 warwick-04.jpg: (85680 bytes)
Angela and Mark at the back, Nick, Tom, The Goddess and the Bellingman at the front.
---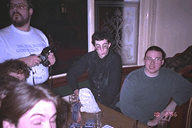 warwick-05.jpg: (79466 bytes)
And then the 'bastard chocolate things' were tasted by all...
---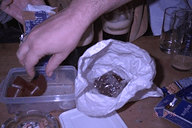 warwick-06.jpg: (74877 bytes)
Alan was unable to resist the temptation of Darrells creations for very long. Note also the other 2 brands of chocolate covered death.
---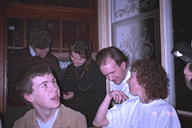 warwick-07.jpg: (81760 bytes)
Simon and Angela study the photos, whilst the Goddess whispers sweet nothings to the mighty Lowes.
---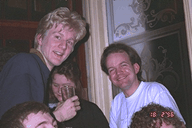 warwick-08.jpg: (81178 bytes)
Your humble photographer is captured on film here whilst in discussion with the Lowes.
---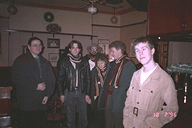 warwick-09.jpg: (80835 bytes)
Alas, all good things must come to an end. The mob prepare to leave the pub for pastures new (or at least somewhere where they can sleep off the effects of the alcohol).
---
warwick-10.jpg: (85216 bytes)
One final group photo. Left to right.
Back row:

Simon Callan, Nick, The Bellingman, The Goddess, Darrell Ottery, the barmaid, Simon Reap, Mark Lowes.

Front row:

Mike Knell, Angela, Tom.
This section of L-Space is no longer actively being maintained. It is only kept online for historical purposes.
The L-Space Web is a creation of The L-Space Librarians
This mirror site is maintained by The L-Space Librarians