| | | |
| --- | --- | --- |
| | INSIDE THE DISCWORLD DIARY | |
Dear Diary, It has been such a long time since the urge to write in you was upon me: not since that chocolate body sauce incident when... well, no need to go into that. I have marvellous news - the other day I spoke to that nice Mr. Pratchett and he told me about the Discworld's Unseen University Diary 1998, which he, Stephen Briggs and Paul Kidby have produced for Gollancz. It sounded so wonderful that I dashed out and bought one. So, I'm sorry to say your services are no longer required. If you could be gone by the morning and leave the pen by the door on the way out...
Gollancz had suggested the production of a Discworld Diary several years ago: however, it was agreed that the project would not be undertaken until a year when sufficient time could be devoted to a truly top-quality product. Following the publication of the Pratchett Portfolio, illustrated by Paul Kidby, in 1996, the idea again surfaced. Gollancz hoped to capitalise on the success of the Portfolio towards the end of that year. However, Terry and Stephen were not keen on producing a "cut and paste" diary. They wanted it to offer readers more than just previously published drawings and a diary section.
The decision was taken to delay the production of the Diary until this year, in preparation for 1998. It was pushed onto the back burner - the Diary was a new type of project for Gollancz and no one could decide if it was really a book. Eventually, Jo Fletcher of Gollancz took over the responsibility for co-ordinating activities and got all the parties involved to meet and discuss the project. Unfortunately this meant that all involved, especially Paul Kidby, were up against particularly tight deadlines by the time agreement had been reached about the contents of the Diary. In the end Jo turned the Diary around in about a month.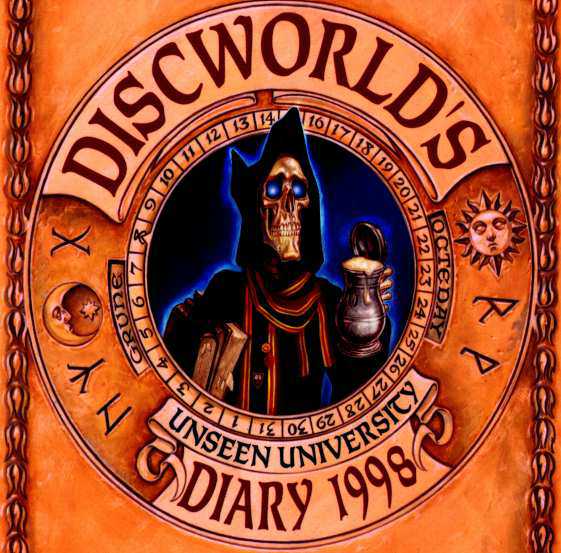 Reproduced courtesy of Gollancz
The final publication, in true Discworld style, has eight days in a week and thirteen months in a year. I asked Stephen Briggs how they had dealt with this, and with the combination of the calendar and festivals of a fictional planet with those of our world. The festivals unique to the Discworld are listed but some gentle reordering of Discworld dates and slight changes to little things like the phases of the moon were required to make it work. Changing the number of days in a year has been a popular winter pastime of emperors and kings through the centuries - I think we can forgive some minor adjustments to allow a fantasy world to meld with our reality.
Despite the eighth day (Octeday) and the thirteenth month (Ick), it is possible to use the Diary for commonplace purposes. As Stephen said, "The diary stretches across both worlds, and can be seen as Earth-bound". Stephen spent a considerable time researching the months and strange but actual festivals for inclusion.
Disguised as feastdays and holidays in Diary are the dates of Terry's, Stephen's, Paul's and Jo Fletcher's birthdays. Convention members should pay particular attention to the entries for September 18th-21st. There is an introduction to the Diary from Archchancellor Ridcully, and a piece from the president of the UU Students Union which has been censored corrected by Ridcully prior to publication.
On the illustration side, Paul Kidby has produced a number of new drawings. We get to see Nobby in folk dancing costume, and a drawing of Death enjoying curry in the company of an onion bhaji-devouring Death of Rats. Also included in the Diary are a number of illustrations not seen before outside the instruction manual for the Discworld II computer game.
Due to the time constraints imposed, some of the drawings had to be vastly simplified to get them finished in time. This means, for example, that the drawing of Ridcully in his study doesn't show the pool table. However, you may be surprised to learn that Paul does not fix any of his drawings, thus allowing him to alter them, adding more details at a later date. This also means that anyone with an eraser could, if they so desired, destroy an original Kidby in true KLF style.
Paul's high standard for the reproduction of his work and a genuine desire to produce a high quality publication has meant that the Diary has run into the same printing difficulties as did the Portfolio. The pencil lines were becoming too faint, causing the images to lose some of their clarity and become fuzzy.
The artwork sets off the text delightfully - someone has taken time to set out the Diary to show the pictures to their best. I think Paul feels disappointed that the time in which to produce his drawings was so limited - he is always seeking perfection in his work. There are more ideas buzzing about in the back of his mind - and Paul really knows his Discworld. Jingo, he said, presents a number of interesting picture ideas. He had more control over these pictures, and more planning went into the Diary than the Portfolio, but there was absolutely no opportunity for any overrun on the deadlines. Paul had to get his mind around the pictures quickly and make sure that they were just right. He worked closely with Stephen who was drawing together the text. Paul normally gets most things right at the first attempt but has changed things in the past following gentle suggestions from Terry. For a first Diary project the results speak for themselves - Paul has created a series of pictures that are well suited to the text. For your 9.99UKP you get a nice diary: it might not suit a top executive's desk, but there is something genuine about it which will compel even non-Discworld fans to pick it up off the shelf.
The question of the possibility of producing Discworld Diaries every year from now on was raised with each of those involved in the publication. Terry, ever wary of the potential for over-commercialisation of his work, was doubtful about future diary projects. He is very aware that, in recent months, the Discworld has started to generate interest from commercial operations. "Discworld is not a Star Wars or Batman" he told me. He is still aware that fans want these things - but if a reader buys a Discworld spin-off product they can be assured that it's worth the money. Stephen and Paul are more optimistic and realise that if the Diary sells demand may become such that a regular diary will be expected. There is certainly plenty of potential - Death's or the Patrician's Diary being two examples. I guess we will have to see how sales of Discworld's Unseen University Diary 1998 pan out against other books - will the Diary storm the sales charts like the maps have done in the past?
Demand exists for these spin-off products, but in becoming closely involved with their development, Terry is drawn away from his first priority: writing books. However, I can say without hesitation that a little extra waiting for another novel is justified by this particular piece of Discworld merchandise.
Paul A Rood


Issues index.
Web pages designed by Derek Moody
December 1997