THE BURSAR'S COLUMN
Lost Luggage!
The walls at Convention HQ are filled with conceptual and design sketches of Lucifer the First (or Loofy to his friends) - a real devil of a machine and, for his many sins, the official Committee entry in the Luggage Wars.
Bred for speed and manoeuvrability, Lucifer slinks around our secret test arena, building up agility and power in preparation for September. On the walls of his cell are pictures of the latest developments from Samsonite - he likes to keep an eye on the competition. Be warned: Lucifer is mean and looking for a fight.
In the space left on the wall, the Convention programme continues taking shape - new items have been added almost daily over recent months. The finishing touches are now being added and our guests notified of their particular programme commitments. We are all very pleased with the new items added for 1998 - some exciting experiences await you all in Liverpool including, we hope, a live Discworld cookery demonstration and a performance of Theatre of Cruelty. The former will be organised along the lines of "Ready, Steady, Cook!".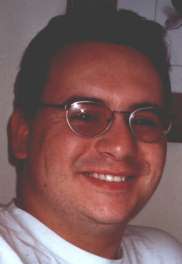 Since advertising it in Issue 3, we have been inundated with subscription requests for The Discworld Chronicle. It's wonderful to see that so many of you are interested enough in what we do to keep subscribing to our magazine. We are now looking for regular contributors, so if you have journalistic or artistic tendencies, or just want to pass on your feelings about the Discworld to other fans, write in to our new permanent address, or e-mail us at: queries@dwcon.lspace.org. Letters can also be sent to these addresses.
Subscribers to the Chronicle will receive advance information about future events and the chance to buy exclusive merchandise. You will also receive discounts on Convention memberships.
What else to tell you? - there's so much. I suggest you read on to find out about items we're currently planning for the Convention, but which aren't yet confirmed.


Issues index.
Web pages designed by Derek Moody
November 1998