The L-Space Web : Plays : Jingo : 2006
---
July - Adelaide
---
The Unseen Theatre Company
by arrangement with Methuen Publishing Pty. Ltd.
presents
The Australian Premiere of Terry Pratchett's
"Jingo"
Adapted by Stephen Briggs,
Directed by Pamela Munt
Discworld Goes To War! - Or Does It?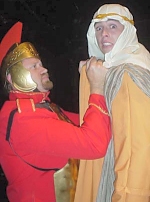 The Lost Kingdom of Leshp has emerged after hundreds of years beneath sea and the race to claim it is on. With no ships, no army and no money, Ankh-Morpork must send Sir Samuel Vimes, Commander of the Ankh-Morpork City Watch to uphold its claim.
Commander Vimes faces unpleasant foes who are out to get him… and that's just the people on his side. The enemy might be even worse.If his small band of intrepid men (well most of them are men anyway) can survive long enough, maybe they can arrest an entire army for breach of the peace.
If not… well then, by Jingo!, they'll put up a jolly good show, because we all know that "Fortune Favours the Brave".
"Jingo", the 21st in Terry Pratchett's phenomenally successful Discworld series, makes the World Cup look like a friendly five-a-side.
Featuring Steve Lomax as Commander Sir Samuel Vimes; Philip Lineton as Lord Vetinari, James Lloyd-Smith as Prince Cadram, Prince Khufurah and Lord Rust; Peter Fry as Leonard of Quirm and the usual cast of thousands.
"Pratchett's writing is a constant delight. No one mixes the fantastical and mundane to better comic effect or offers sharper insights into the absurdities of human endeavour" Christopher Matthew, Daily Mail
"Both his inventiveness and his moral shrewdness seem inexhaustible" A.S. Byatt, Daily Express
"A new benchmark has been set as Unseen Theatre, Adelaide's resident Terry Pratchett experts, present the best Discworld play this side of A'Tuin… superbly realised by director Pamela Munt. No previous Discworld play in this city has come close." Rod Lewis, Encore Magazine (Going Postal 2005)
Preview:

June 30 at 8pm - All tickets $12

Season:

July 1, 5, 6, 7, 8, 12, 13, 14, 15 at 8pm

Tickets:

Adults: $16
Concession: $14
Fringe Benefits: $12
Friends of Unseen: $12
Groups (10+): $10

Bookings:

Bakehouse Theatre on 8227 0505 or pamela@unseen.com.au
The L-Space Web is a creation of The L-Space Librarians
This mirror site is maintained by The L-Space Librarians