The world premiere of Mark Ravenhill's adaptation of Nation.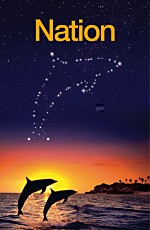 A parallel world, 1860. Two teenagers thrown together by a tsunami that has destroyed Mauís village and left Daphne shipwrecked on his South Pacific island, thousands of miles from home. One wears next to nothing, the other a long white dress; neither speaks the otherís language; somehow they must learn to survive. As starving refugees gather, Daphne delivers a baby, milks a pig, brews beer and does battle with a mutineer. Mau fights cannibal Raiders, discovers the world is round and questions the reality of his tribeís fiercely patriarchal gods. Together they come of age, overseen by a foul-mouthed parrot, as they discard old doctrine to forge a new Nation.
Suitable for 10yrs+
Venue:

The Olivier Theatre

Dates:

11 November 2009 - 28 March 2010

Tickets:
Ticket Offers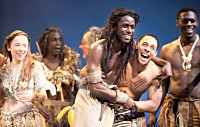 Get over 25% off top two price tickets.
Call 020 7452 3000 and quote promotion 2385 or book online at the National Theatre and enter promotion code 2385.
Top price for £30 and 2nd price for £25. Usual prices £42.50 and £35.
Valid on performances from 1 - 28 January 2010.
Excludes all matinees and Saturday evenings. Subject to availability.
Free tickets for 15-25 yr olds
Live Broadcast
The National will broadcast a live performance of Nation to cinema screens around the world at 1.30pm (GMT) on Saturday 30 January 2010. For a list of cinemas, check out the NT Live website. Tickets for the filmed performance at the National go on sale on 21 December 2009.
Further details: National Theatre