Discworld Conventions : 1996
---
It all began one Friday in April...
Friday, 21st April 1995
DISCWORLD MINI-CONVENTION ANNOUNCED!
Earlier today, Mr Paul Rood announced a Discworld Mini-Convention to take place sometime next year. Rood, a 24-year-old building surveyor from Chelmsford, explained that the idea of the convention arose from a discussion on the Internet and added:
"I envisage a gathering of about 30 or 40 people who will get together for an afternoon and later share an intimate dinner and a few drinks at the bar."
---
Sunday 23rd April 1995
CONVENTION LOSES MINI
My Mistake! Admits Bursar
The proposed Discworld Mini-Convention has lost its "Mini" after organisers were swamped by enquiries leading organisers to estimate an eventual attendance of hundreds. Paul "Bursar" Rood admitted that he'd made a mistake - probably when offering to organise the event - but had since resumed his medication and was feeling "much better now".
The International Discworld Convention will now take place between 28th and 30th June 1996
---
Friday 28th June 1996
CILLA SEX CHANGE SHOCK!
I Thought It Was A Baking Contest! Claims WI Woman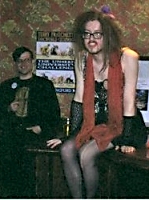 Innocent bystanders were horrified, earlier today, when, during an apparently secret recording of the popular TV program, Blind Date, the female host appeared sporting a beard! Further investigation revealed the event was, in actual fact, "AFP Blind Date" hosted by one Emmet O'Brien in drag.
Several confused WI members declared that they had been promised sight of an internationally renowned tart - a point later clarified by Ms C. Speed who admitted:
"Emmet is truly a tart, completely and utterly. Just by the way he leaned seductively against the bar while conducting AFP Blind Date in drag gave it away. It's an essential part of his nature".
Police are also investigating an alleged incident of criminal damage to Mr Emmet's stockings which, allegedly, involved a Tap. A Mr A. Fawcett is currently helping with them with their enquiries.
---
BRUTAL MURDER! WATCH BAFFLED!
The Ankh-Morpork Watch today admitted that they were baffled by the foul slaying that took place in front of dozens of onlookers at Sachas Hotel, Manchester. Suggestions that this was a mass conspiracy were fuelled by rumours of a Murder Mystery Event that took place in broad daylight and was openly organised by Ms Carol Willis. A witness, later identified as Phil Willis, said:
It was total chaos! I hope people enjoyed it - it was quite entertaining to watch anyway."
---
CONVENTION BETTER THAN TESCO'S ADMITS TEACHER!
A new contender emerged in the high street supermarket battle today. Our reporter at the Discworld Convention unearthed evidence which indicates that one of the attendees is the deputy head-teacher at a large primary school.
When asked what on earth she was doing at this event, she replied:
"The alternative is going round Tesco's."
Our reporter was astounded to see many stalls blatantly selling Terry Pratchett books in hard cover or paperback, audio-cassette and dramatised versions of the books, Clarecraft models of the characters in the books, badges, key-rings, door-plaques, ties, scarves, blousons, earrings, framed pictures, necklaces, bookmarks and miscellaneous objects which were incapable of description! Asda and Sainsbury's were not asked for a comment but are thought to be monitoring the situation closely.
---
Saturday, 29th June 1996
SLAVE TRADERS HIT EVENT!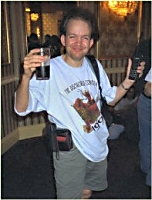 Reports have been flooding in concerning allegations of slave trading. Official sources have issued a statement, under the guise of an event programme, which even makes specific references to an Ephebian Slave Auction. One hapless victim of this despicable enterprise, who preferred to use the soubriquet "Hamster", declared:
"I want to know who shouted out from the audience in the slave auction asking for me to be sold off. I want revenge!"
---
GALA DINNER DECLARED A SUCCESS!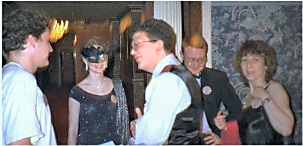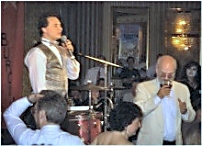 The Gala Dinner was declared a resounding success by all concerned. Those fortunate to have attended this prestigious event were rewarded by an enjoyable evening of fine food and wines including cream of tomato Andalusian, supreme of chicken Carmen and raspberry and Drambuie flummery, with vegetarian alternative.
The repast was followed by a number of delightful after dinner speeches from such luminaries as Mr T. Pratchett (author) and P. Rood Esq., after which the guests indulged in light social chit chat regarding the identity of the Mysterious Masked Lady and the current fashions in millinery.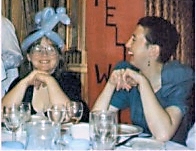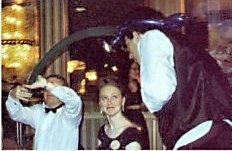 The general air of excitement was greatly intensified by the appearance of a large number of Unidentified Fullblown Objects. During an exhibition of balloon modelling, the unfortunate entertainer asked for modelling ideas.
The immediate response was, typically:
"Something rude!"
The post-Gala entertainment then took a bizarre turn when three semi-naked men claimed to have "stripped for charity". Investigations are underway to determine the levels of deafness suffered by the men concerned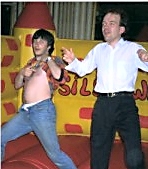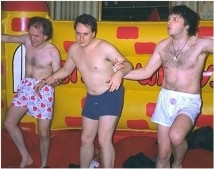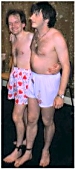 ---
Sunday, 30th June 1996
HIGHWATER TEAM BEATEN BY CELEBRITY PANEL
Audience Comes Third!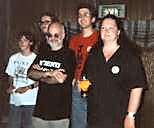 The final round of the Unseen University Challenge was, today, won by a team composed of Miss Helen Highwater and Her Suitors.The winning team were then confronted with a post-final contest against a celebrity team of Terry Pratchett, Stephen Briggs, Josh Kirby, and Paul Rood. During this nail-biting event, the Highwater team managed, for a short time, to gain a slight lead - aided by one of their opponents (an author, no less) who was seen to mouth "Who?" at his team-mates when asked questions about characters he couldn't recall creating. Eventually, however, the celebrity team drew ahead and maintained their lead until the contest's end.
At one point, Terry's team was asked:
"Where do lost socks go?".
He paused, concentrating hard, then a look of surprise came to his face.
"Hang on! I've just written that. The answer is that they're eaten by the sock monster but it hasn't been published yet. How could you know that one?"
A voice came from the audience:
"We know everything..."
Unsurprisingly, when all the points were calculated, it was discovered that the audience had earned 30 points, giving them a creditable third place!
---
SCIENTISTS SHOCKED!
Darwin's Theory Quashed! Hawkins Resigns!
The scientific world was rocked to its foundations, earlier today, when The Cannibal Lemmings Theory of Discworld Rotation was revealed at a scientific conference hosted by Messrs C. Buckley, A. Bellingham and M.P. Knell.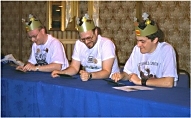 The intricacies of the lemming model, the pinball approach to solar orbital mechanics, and the quantumly indeterminate nature of A'Tuin's sex were finally explained in detail to a stunned audience. The Lemming model, in particular, was described as being as elegant a solution to a set of problems as round-world physics has ever produced and, incidentally, also solved the mystery of why lemmings jump over cliffs. A hypothesis that the Great A'Tuin might possibly be a Schrodinger's Turtle was also advanced but this was left unexplored.
In short, The Cannibal Lemmings Theory of Discworld Rotation explained everything, including the possibility of elephant friction burns. Just how it explained everything is probably best left to those who actually paid attention to the details. When asked to describe the Theory and it's potential impact on current scientific thinking, one member of the audience, Mr E O'Brien, said:
"Never has so much bovine excrement been seen in one place before."
---
CHAIRMAN UNDERGOES BIZARRE PUBLIC RITUAL!
The Mystery of the Vast Custard Mountain was finally solved this afternoon by virtue of a child's paddling pool and a convention chairman. Rumours as to the purpose of the "Bring Your Own Custard Packet Appeal" and the various signs urging attendees to "Talk About Custard!" had been circulating the venue for the past two days and curiosity had reached peak levels by this afternoon.
Proceedings begin with the ceremonial "Filling Of The Paddling Pool" when, before a capacity crowd, a number of specially selected custardees began opening the assorted containers and emptying them into the sacred vessel.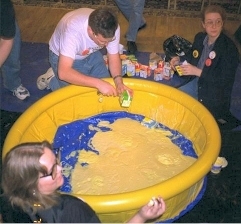 The Chairman, Paul Rood, was escorted to the poolside and underwent the "Solemn Disrobing".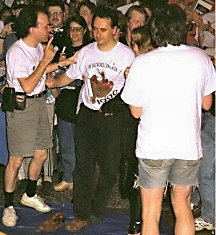 He then entered the pool and the "Ceremonial Custarding Proper" began, presided over by Terry Pratchett.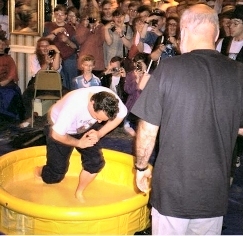 Custarding continued until the Chairman resembled a large, animated, blancmange - much to the vocalised amusement of the onlookers.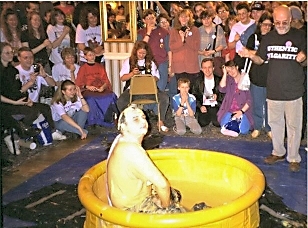 Shortly after this point, the ritual closed but not before there were mutters of a repeat performance "Next Time...".
Mr Paul Rood would like to take this opportunity to point out that, although he freely admits taking part in custarding, at no time did he inhale.
---
Credits
Thanks to Mark Lowes, Rob Collier, and Carl Muller for the photographs.
The L-Space Web is a creation of The L-Space Librarians
This mirror site is maintained by Colm Buckley