The following retrospective is but a taste of what the Discworld 1998 Convention had to offer to the discerning conventioneer. You might also wish to see the full programme of events or peruse a list of the 1998 Convention Committee members.
---
Friday 18th September
Arrival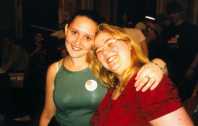 "I met and was licked by Colm Buckley, collected dizzying hugs from ppint [1], gophered with Liz the Librarian, felt secure with Donal Cunningham and the other pink badgers, read the very up-to-date Chronicle Live!, was introduced to lots of new faces and... so many people, so little time."
"Playing 'hot and cold' to find the ppint. and the look on Leo Breebaart's face when he realised that I'd known ppint's gender all along..." (Kim)
---
Many to One
A quiz with a huge amount of audience participation - the contestants were the audience. This was loosely based on the television show 'Fifteen to One', but with a few more people turning up. This was a once-in-a-lifetime chance to embarass yourself by revealing your lack of knowledge in front of hundreds of strangers!
---
The Opening Ceremony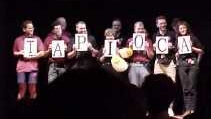 The official start of the 1998 Discworld Convention. Everyone heard details of what was happening and when...
...and why the word 'TAPIOCA' made Paul blanch.
---
The Assassins' Guild
Want to meet new friends and assassinate them? Guildmasters Keith Kenny and Phil Penney instructed hopeful trainee assassins in the Disc's hardest physical examination. You could trust no one in this paranoia-inducing contest.
"The Assassin's Guild Training is good too - my mate killed his first target almost straight away - I have to kill mine today..." (Dave)
---
Paint Your Own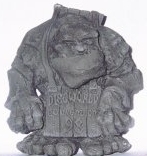 The Convention Troll was lovingly reproduced by a very Cunning Artificer [2] indeed, and was available for a small fee from the Dealers Room.
The Troll was coloured in neutral grey but, for those who wanted to create something unique, here was their chance to use paints to produce their very own masterpiece.
---
Terry Pratchett Reading...
A chance to hear The Words read by The Man Himself.
Terry gave his audience snippets from the soon-to-be published Carpe Jugulum and the very unpublished The Fifth Elephant.
---
Live Tetris
A totally silly game that involved playing Tetris using people - audience participation gone mad!
"The organised chaos that was Live Tetris." (Adrian)
---
Games from the Drum
A well-known double act (Murky & Carol) provided an evening of games that involved skill, dexterity, luck and large amounts of ritual humiliation. Several volunteers attempted to play games that the titles alone indicated only the brave should join. As for the forfeits...
"Kiss every man in the room was Thomas Pratchett's forfeit. Darrell and Co ran away at this point.
Remove an item of underwear: Scully removed a bra.
Remove an item of someone else's underwear: Scully had just been out to replace her bra, and so she was fair game." (Murky)
"The third piece of paper was 'exchange 2 items of clothing with the last person to pay a forfeit'. This had me worried. At the time, all I had on was a pair of trousers, a cowl neck blouse, panties and a bra. I thought to myself 'Help! There is no way I am doing this!'.
Fortunately, we just threw the screwed-up bits of paper at a troll." (S)
---
Saturday l9th September
Slave Auction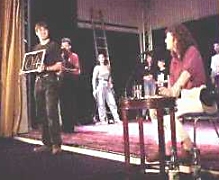 This was an old favourite from the previous Discworld Convention where prospective purchasers were able to bid for the slave of their choice, aided and abetted by Committee members.
Each slave had different skills or attributes but, unfortunately, there were strict restrictions regarding what could be done with the purchases.
Moral? Always read the small print!
---
Writing Workshop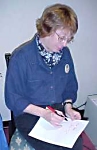 Peter Morwood and Diane Duane ran this Workshop for aspiring authors. Would-be scribes arrived with a written piece which they were happy for others to read - the payback being that they got advice and guidance from professionals.
"Special thanks to Diane Duane & Peter Morwood for running the writing workshop. Still can't get over how nice everyone was to me..." (Adrian)
"I'm not doing another Writer's Workshop. You miss too much. Next time Diane gets to do it all." (Peter Morwood)
---
Chaos Costuming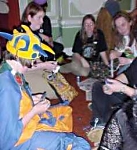 For those who wanted to enter the Maskerade Parade on Saturday but didn't have a costume, there was still the chance to design and produce a costume from scratch.
There were even experts on hand to offer advice and assistance to those who found themselves with more 'chaos' than 'costume'
---
Battle of the Bards
Who would take the title of the Bard of the Dysk? This was a contest to find the most excruciatingly awful poet of the Century of the Fruitbat. This poetry wasn't merely bad; it was so awful that it must surely have ranked among the classics of Dysk literature. The audience (victims?) were treated to a reading from that truly awful poet Mr. B. Potter, whose previous readings had been responsible for crashing the Samaritans switchboard - though, this time, he was (mercifully) brief. After a tightly fought contest between poets who were pretty evenly matched in talent(!), the eventual winner was Liz Mattafice with the Dwarf epic poem 'The Lay of The Last Dwarf Bread'.
---
Unseen University Challenge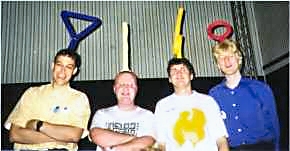 The quest to find the most knowledgeable team. After last time's trouncing [3]of all opponents (including Terry and the audience), Helen Highwater was back with a vengeance to defend her title but her hopes were dashed, dramatically, in the very first round by the Cabal team (playing as TINC] [4].
"I'm convinced the Cabal won the first round against Helen Highwater and her Suitors because of Colm's antics with Dipsy's antenna. Suffice to say, it was nothing that will ever appear on BBC children's television." (Kim)
---
Filk Off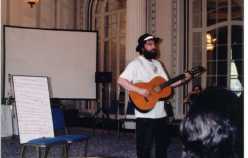 Ever wondered what a filk [5] is? Ever wondered how it starts?
This was your chance to participate in the genesis of new filk songs. A select combat panel of guerilla filk specialists, trained in the art of popular music assassination (who also happened to include the audience) proceeded to decimate a number of well-known and previously well-loved tunes. Particularly appalling compositions were performed in public later on.
"Listening to 'Bohemian Rhapsody' die several bloody deaths at the hands of filkers and other lubricated persons." (Kim)
---
Cohen and Stewart Present...
Not that popular barbarian comedy double act, but Jack Cohen and Ian Stewart, respected scientist and mathematician respectively. Ian and Jack shared their vision with the audience as we learnt how worlds and creatures are created and made believable.
"The Science Of The Discworld lecture set to music was one of the few Con events that I made it to. It made me wish I'd had time for more." (Kim)
---
The Maskerade Parade
The highlight of Saturday evening!
The time when many hardened conventionees dressed up as their favourite character and paraded in front of several hundred people, including a judging panel of Discworld celebrities.
This was the culmination of hours of hard work in preparing costumes and rehearsing diligently and it showed!
Category winners included Captain Carrot & Corporal Angua, and Teppic, whilst Detritus deservedly stole the 'Discworld Best In Show' award.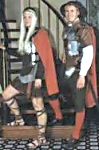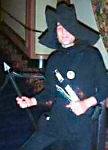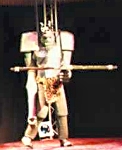 ---
Sunday 20th September
Charity Auction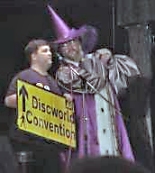 A chance to grab a piece of Discworld history, as the lots piled up only to be immediately auctioned off by Mustrum Ridcully (aka Bernard the Cunning Artificer).
Some of the oddities that had been acquired for this unique opportunity were...um...very odd. All proceeds from the auction were donated to charity.
---
The Leonard of Quirm Great Egg Race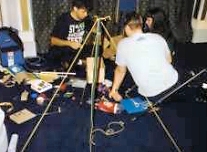 The teams involved had to devise and create a means for Lord Philanthropic III of Quirm to reach his lady love, Jemima Talboy Nautilus. For the uninitiated, this unlikely twosome were a pair of swamp dragons - in love, lustful, and highly dangerous.
Now, over to our on-the-spot reporters...
"Task: Move Lord Philantropicus the Thingiest, a swamp dragon, over six feet distance. The construction should be selfpropelled. Shaking too much will get the wee little dragon very upset, a very explosive situation, as we all know." (Eelco)
"Not only does the swamp dragon explode but so does Claire-Louise Ruffle, the owner of Lord Phil, last seen hunting down Team 2 who let him fall out of a speeding car." (Kim)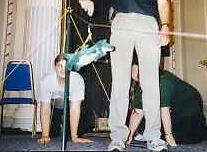 "In the time the other teams needed to build one construction, we build two. Number one, an elastic band driven (stretched across the floor, and pinned to the carpet) car (with padding inside) which transported the swamp dragon very comfortably." (Eelco)
"...smack bang into one of the pillars. However, as the vehicle and dragon had crossed the critical six foot mark, Lord Phil was deemed to still be alive and well." (Kim)
---
The Maskerade Gala Dinner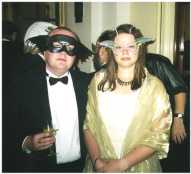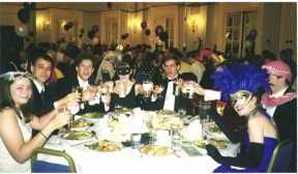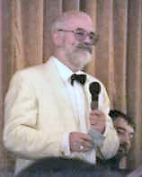 Cocktails, masks and hours of entertainment, after-dinner speeches, cabaret, the Patrician's gaming tables, loads of music.
"It was difficult telling people how stunning they looked without descending into monosyllabic wows and gurgles. I take my mask off to the creativity of the gloriously red and gold Joann L. Dominik, who had made, or designed, almost every stitch on her." (Kim)
"PTerry
[6]
looked good in a white dinner jacket, I have to say." (Dave)
---
Monday 21st September
Luggage Wars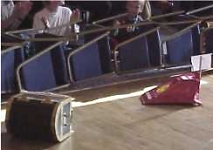 Lots of violence and mayhem as mechanical terrors tore each other apart. Well,at least until their batteries ran down. The winner was Andrew Langhammer of Rising Star Enterprises with 'Have a Nice Day', the veteran robot of the Intuition Easter Con '98. Dunno what happened to the Committee's entry.....
---
An Un-Programmed Event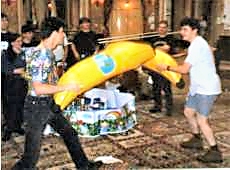 "Adjudicating the giant inflatable banana duel between Mr. Mike P. Knell, Esq. (second, Kat Knight) and Mr. Gideon Hallett, Esq. (second, Gabriel Krabbe). A Voice from the Crowd mistook the duel for a pantomime and helpfully yelled 'Behind you!' to Mr. Knell, who turned and was promptly clobbered by Mr. Hallett. While not wishing to accuse the honourable gentleman of cowardice, he was distinctly heard to protest, 'Stop hitting me!'" (Kim)
---
And Finally....
A special surprise from Cosgrove-Hall, who were unable to actually attend the Con, so instead sent every con attendee an original cell from the 'Wyrd Sisters' or 'Soul Music' videos.
"I was really pleased with mine, It's a picure of the Klatchian Foreign Legion, and I recognised it when I watched the animation later. My SO
[7]
got a picture of a ceiling, and we can't figure out where it's supposed to be. I think I'll frame mine. Thanks Cosgrove Hall!!" (Dove)
---
The Closing Ceremony
aka "Why Paul was so worried about tapioca?"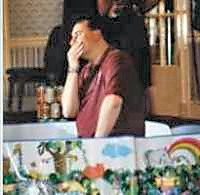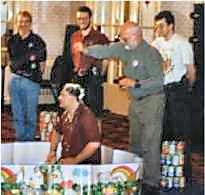 ---
Saying goodbye...
"People starting to fall apart into sleep-deprived incoherencies towards the end of the convention and tired Committee members being glued back together again with hugs." (Kim)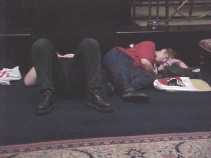 ---
The Fans' Verdict?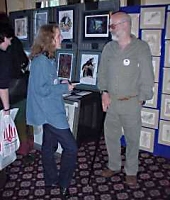 "Well, I had a great time at the Con, cost me a bomb, but it was worth it. Especially seeing Paul get covered in Tapioca and Jam at the closing ceremony." (Andrew)
"What can I say? The people were friendly and generally wonderful, and the Committee organised a brilliant convention." (Kim)
It certainly was hectic, but I had a helluva fun time anyway!" (Jamie)
"I had a good time at the Con in all! I can't wait to find out where the next one is, to see if I can go... " (Dave)
---
Footnotes
---
Credits
Photographs - Bjorn Bjornsson, Colm Buckley, Eelco Giele, Ian and Mandy Oldroyd, Maurice Barnes, Glenn Andrews
Thanks also to Kimberley Verburg for being so eminently quotable
The Second Discworld Convention logo is © Paul & Sandra Kidby.