Four days full of fun and fans.
Here are just some of the things that happened. You could also check out the official programme of events.
---
Friday 16th August
Registration
An eager crowd assumed their starting positions in front of the registration desk and, at 10 a.m. precisely, bang, they were off! Old-timers and first-timers alike were welcomed and were given their goodie bags.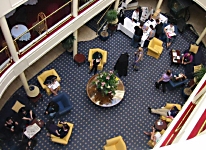 Ruthi: "How do you tell the Milde brothers apart?"
Adrian: "One has a name badge 'Rolf'."
"Without the handy name badge I'd have lost track of who I was by 10pm most evenings."
Eric
Clutching their programme books, people scattered through the hotel to such diverse activities as Stephen Brigg's Acting Masterclass, the Paul Kidby Interview, volunteer briefings and the newcomers' guide to conventions.
---
Dealers' Room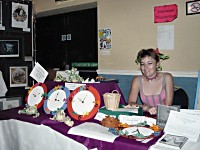 This place made wallets and purses tremble with fear. The eager customers were able to buy Discworld-themed items like glasses and lanterns by Lady Kayla, cute and colourful shoulder dragons, Clarecraft figurines and, of course, books. The Cunning Artificer's Printing Press was particularly admired.
"Bought Stuff. Badges gotten: a.f.p badgehog (finally!) and Mort pendant. But the one thing that made me really happy to get is the Death of Rats mousemat. My mouse is resting on it right now, and it's worried."
Marco
---
The Hotel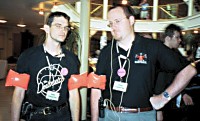 The hotel had suffered from flooding and the carpets were still drying when the Con started.
The Heads of Security were well-prepared by Ops however.
"In my experience the staff were also extremely friendly and helpful (finding me things like sheets of acetate for the Ephebian Philosopher's Song, for example.)"
MegaMole
"And anyway, the parking lot was interesting. I saw spiders, and wondered what the hell they'd been fed."
Marco
---
Gaming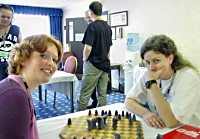 The Koom Valley Lounge hosted the Thud practice and demonstration sessions. Players sharpened their skills for the International Thud tournament which would take place later in the weekend.
Meanwhile, the War Room had been taken over by role players.
"[Thanks] also to mpk and Ingvar for their sterling dungeon master efforts with a bunch of 12ish yr olds who wouldn't leave the tavern to go marauding and had to be carried out."
Karen/hypatia
---
Opening Ceremony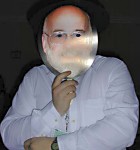 Inspired by Being John Malkovich, a little surprise had been arranged for Terry. The Author stepped out onto the stage, the house lights went up...to reveal 600 odd people all wearing masks of his face. After a rare moment of speechlessness, he inquired, "Why didn't I get one of those?"
Some masks were recycled.
"Today mine and Ruthi's were used for scaring Neil Gaiman. His expression resembled Terry's at the relevant moment."
lonecat
---
Terry's Bedtime Stories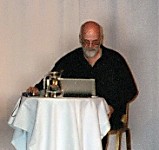 Once upon a time, there was a man in a hat who read from an as yet unpublished book called The Wee Free Men. Afterwards, the conventioneers were not at all sleepy but pleas of "just one more chapter!" were not heeded.
"Of course, spending the weekend in the same hotel as The Man Himself and hearing him read from Nightwatch and The Wee Free Men were worth the admission alone!"
Andrew Raby
---
Saturday 17th August
A full day featuring, among other things, interviews of the guests, Ptraci's Bellybouncing Bonanza and assassins killing each other all over the place.
"Ahhhhh if only I'd got to the first balloon modelling class. I could have spent the entire second one making A'Tuins"
Chris
---
Isis Presents...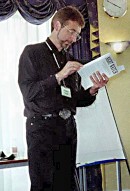 Isis are responsible for producing the unabridged Discworld audio books.
Peter Johnson explained how Isis worked and what his own job involved.
Stephen Briggs, who is one of the company's readers, did an excellent reading from the unpublished Night Watch.
Of course, he stopped at an appropriately exciting moment and his audience was torn between applauding and groaning in disappointment.
---
Slave Auction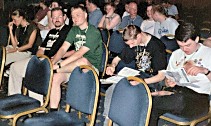 Minions going cheap!
Very useful for carrying all the signed books and merchandise acquired during the weekend.
The auctioneer, Bernard Pearson, was so enchanted by the matching set of Goths that he snapped them up himself.
---
Leonard of Quirm Aerial Challenge
The sole purpose of this activity seemed to be pelting innocent Con goers with cunningly constructed and, above all, pointy airplanes. So, before crossing The Hub, look both ways and up.
---
Guest of Honour Interview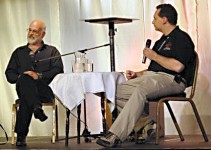 Terry's pet hates were consigned to Room 101[1] by Paul Rood, the Con Chair. Nigerian spam, Nigella Lawson[2], celebrity writers, reality TV, Human Resources managers and the government were all nominated.
Paul:
"What have you got against reality TV?"
Terry:
"It's not real."
"Sex is so much easier for potatoes"
Terry
---
A Tribute to Josh Kirby
Sadly, Josh Kirby passed away in October 2001. Guests and audience were invited to share their memories of this artist who was so closely associated with the Discworld.
A number of Kirby's paintings were shown in the art gallery, so that visitors could admire the full-size originals. Jackie Rigden had also kindly brought along photos of Josh Kirby to be displayed.
---
Maskerade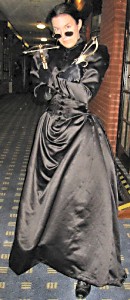 Once again, the Discworld was brought to life by the talented and creative entrants. The hours of hard work on costumes and routines were greatly appreciated by judges and audience alike.
Pam Gower received a special award, the Golden Granny, for her life-like portrayals of Granny Weatherwax.
Other category winners included Mrs Palm and her Seamstresses, the Lord and Lady, Alice Band, and Sardines.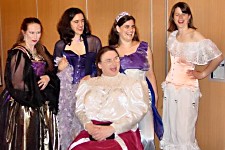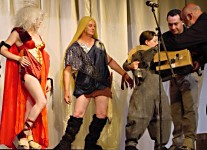 The Silver Discworld went to Tony Lewis as Mustrum Ridcully, who received his award with a heartfelt "Cheers, mate!"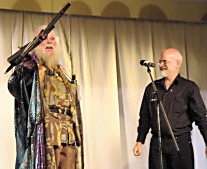 ---
AFP Party
The newsgroup alt.fan.pratchett turned 10 this year. About two hundred people celebrated with jelly and ice cream and...other things...
"Ants? Please tell me I didn't eat any... I got stung by the chocolate covered vegetables, avoided the salty liquorice but don't want to have eaten ants... Please..."
MP
---
Sunday 18th August
Religious Worship - The Church of Om
Those of us who are not early birds missed out on purifying our souls at the Church of Om.
It was, by all accounts, one of the funniest items at the Con.
---
The Unseen University Lecture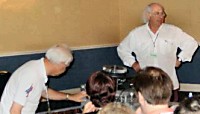 As always, Ian Stewart and Jack Cohen were entertainingly informative about Discworld and Roundworld science.
Many topics were handled in short order, but to start off, they tackled the tough subject of what the audience's attitude would be to killing animals in certain situations.
---
Fencing Masterclass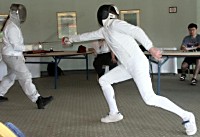 Madame Les Deux Epees gave an interesting lecture on the history of fencing. Terry dropped by and, after successfully assassinating some candles, was honoured with a Guild of Assassins B.A.
"The reason I'm giving you this mask is because I'm going to attack you."
Ingvar to Marco, just before doing exactly so, with a sabre
"Though I came in late and thus missed Terry. :-( I did actually hit my opponent a few times, though, against all likelihood."
Marco
---
The Great Hedgehog Race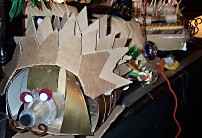 Teams were given the challenge of building their own hedgehogs using the contents of a cardboard box and whatever else they could scrounge from around the hotel.
Main criteria were speed, design and anatomical correctness.
On Sunday, the teams had to swap hedgehogs and improve each other's designs. The organisers were surprised and pleased to see how much effort the teams put into their hedgehogs.
---
Kaffee Klatch
A lottery determined which lucky ones got a seat at a Kaffee Klatch (a small group chat with one of the convention guests). I got to sit down with Diane Duane and Peter Morwood.
Of course they answered questions about their books, but they were also full of fascinating facts about insurance for gladiators and Roman slammer glasses. Not quite what I expected, but that made it all the more enjoyable.
---
Charity Auction
An opportunity to become the owner of special Discworld items, and that's only what is in Hodgesaargh's tray! The auction raised almost 8,000 pounds for charity.
"You cannot go to heaven if you're rich."
Bernard Pearson, auctioneer extraordinaire
"Is he still holding his hand up?!"
Terry bidding against a tough competitor
"Come on, someone's leaving with a cabbage flag."
Mr Pearson again.
---
Pre-dinner Cocktails plus an impromptu item
To the shock of all present, this sophisticated gathering of harmless vampires and friends was gatecrashed by rude Omnians. Signs like "People are not just for lunch!" were waved whilst the rabble sang protest filks[3] at the guests.
Fortunately, only one vampire was converted before security bodily threw these malcontents out. Only then could the evening be continued in peace.
---
Vampire Ball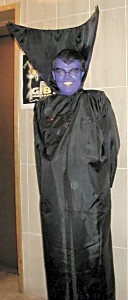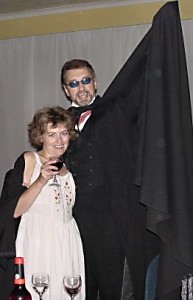 Count de Magpyr's guests were entertained by jugglers, magicians and balloon modellers and then sunk their fangs into their tasty meal.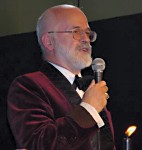 Sated, the guests headed off to gamble and quietly hoped for the favourable glances of a certain Goddess.
After a final, tense hand of blackjack, a syndicate went home with a signed folio of Paul Kidby prints.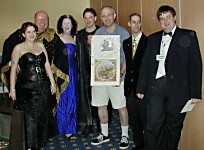 ---
Toast and Jam
A low roar rumbled down the corridor, distracting one or two of Count de Magpyr's guests who were listening to Terry's speech.
"Joined the audience at the Toast & Jam session. As the Live Chronicle pointed out: it was loud, it was smoky. And it was also bloody great. My scheduled activity for that time was actually the Live Thud, and I did go and have a look at it, but the jamming was to prefer. It defies description. It was damned enjoyable."
Marco
---
Monday 19th August 2002
The Treacle Mines were full with con-goers painting figurines, who were aided by tips given in a painting demonstration by Clarecraft earlier in the weekend. Mark Ayling gave a sculpting workshop for beginners. Audience members were given a chance to be publicly humiliated in a second round of The Wyrdest Link. Weary feet braved the last signing queueue in order to get books signed by the guests.
---
Theatre Presentation: The Sea and Little Fishes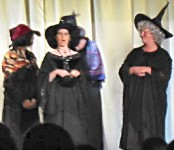 The play premiered to an enthusiastic full house.
It was directed by Suzi Holyoake, with a cast drawn from Convention members who rehearsed during the weekend. All the cast did a great job, particularly Pam Gower who, silently and without moving, emanated such Granniness that the people in the back of the hall started to shuffle nervously.
"Thoroughly enjoyed the theatre presentation of The Sea and Little Fishes (a story, furthermore, which I haven't read). It was very good, and has left me with a whetted appetite for Discworld plays. I shall hopefully see more."
Marco
---
Closing Ceremony
Becky Larking was crowned winner of the International Thud Competition and she threw down the gauntlet for next competition.
All the volunteers were thoroughly thanked.
As a mark of special thanks, the Chair was supposed to be covered in Banana Whip but then it was decided that Terry should chop off his head instead. A new Con Chair had been found for 2004 and, after all, "there can be only one!"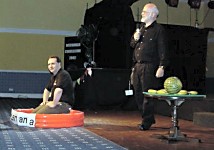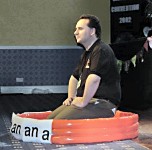 "The 'the melon, not Paul, the melon, not Paul...' thing was a bit worrying."
Cybercat
"To be honest, once I tested the blade, I didn't worry about aiming"
Terry
"Two perfect halves, one of which did the whole "fall off the table then slowly roll round in ever decreasing circles and twiddle to a stop" cliche."
Peter
---
Dead Monkey Party
The die-hards gathered in the Cavern for one last party.
The events of the weekend were reminisced about, newly-acquired games of Thud were played, the Omnians did an encore and people slept the sleep of the just and incredibly tired.
---
Farewell...until next time!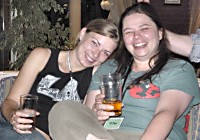 "I talked with less than half as many of you as I'd liked to, and those I talked with less than half as much as I'd liked to."
Marco
"Saw lots of lovely people, got introduced to a few I hadn't met, did a bit of gophering and helping out, won something, drank large amounts, ate inordinate amounts of pink triangular sugary things from the gopher hole, missed out on a fair amount of actual sleep and had a wonderful time."
Gideon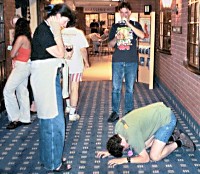 "I'm not sure whether it was the result of too much Grolsch or not, but my view is that this was the Best Convention Ever - the atmosphere in the convention areas, in the corridors and in the bar was unfailingly cheerful, and despite the odd squabble there didn't seem to be any major problems."
mpk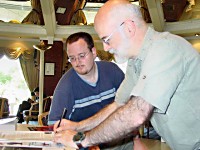 "You guys somehow managed to come up with something for everyone (and a few things for everyone else)."
Chris
"It was a great con and I feel quite reassured about the fact that, as far as I know, there'll be another one at the same hotel with substantially the same committee in two years time. It was certainly the best con banquet I have ever had at any con anywhere."
Terry
---
Credits
Photos: Colm Buckley, Rob Collier, Bob Dowling, Ealasaid Haas, Kat Harris, Tim Van Holder, Ailbhe Leamy, Uwe Milde, Adrian Ogden, Marco Villalta and Rosemary Warner
Quotes: Thanks to Marco (Viva Villalta!) and alt.fan.pratchett
Page design: esmi
Word wrangler and writer: Kimberley Verburg
---
Footnotes
[1] Room 101 is a television series in which guests are invited to nominate despised objects to be sent to the eponymous room. The name comes from Orwell's 1984. Back
[2] Nigella Lawson is a (so-called) domestic goddess in the UK. Back
[3] Filks are popular songs with the lyrics revised for often humourous effect. Usually protested at.
A sample to the tune of "Onward Christian Soldiers":
Onward Veggie Vampires
Bloodfree for all time
When the craving is upon you
Just think "cocoa time"....
Elaine and Lin