The Convention Committee
DARRELL OTTERY
(Deputy Programme Head)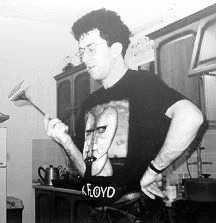 Pictured here in his natural environment, Darrell can also be found equally at home in front of a computer screen, although it's true that the quality of the catering decreases somewhat.
Living in the murky depths of sunny Reading, at the age of 24 this chemistry graduate remains unsurprisingly free from the attentions of the opposite sex, which for the sake of their sanity and general well-being is probably no bad thing...
His vital statistics are [censored] and his hobbies include being nice to small children and animals 1. His ambition is to bring about world peace and general grooviness. Darrell vows never again to write an article in the third person.
1 By removing himself rapidly from their presence.
---
Ian Simpson
(Account Administrator)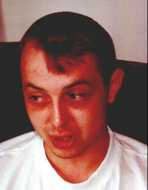 I left college at 18 and spent four years training with a top firm of chartered accountants in Manchester. I then spent twelve months on temporary contracts including a four-month stint at Boddingtons Brewery.
Since then I have worked for my present employer, IBIS Business Information Systems Limited, as the company accountant / financial controller, where I qualified in March 1996 with the Institute of Financial Accountants. I am technical advisor in respect of statutory financial compliance to the company, which produces specialist computer software for the accountancy profession.
---
ROB WILKINS
(Programme Assistant)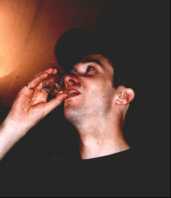 When a long and distinguished career in the RAF didn't actually start after it was pointed out Rob was having some difficulty in distinguishing one end of an aircraft from the other (myopia - they do get kinda touchy about these things), he went off to seek his fame and fortune.... Unfortunately he found Cambridge instead and a brief stop lasted some seven years give or take a few. During this time he was innocently handed a copy of Moving Pictures which he refused to hand back unless it was replaced by a rather nice piece of Thornton's toffee. Following this a friend lent him Good Omens whilst on U2's Zoo TV tour and there has rarely been a time since when he hasn't had at least one TP on the go. His first faltering steps into collecting and fandom began in 1977 when George Lucas changed his life. A Dr Who convention at Longleat House was his first followed by many, many Star Wars events. The sane part of his brain still finds it hard to comprehend the attraction of dressing up as Cyber Men or Storm Troopers but luckily this section of grey matter remains firmly in the minority. Parsnips, Blur and tuneless whistling are amongst the very few things Rob actively dislikes. Bananananas, cats, small pieces of plastic modelled by the Kenner Company and people who deliver parcels of toffee to him at the Ops Room are just a few of his favourites. He believes the world would be a far better place with a few more people like Bernard and Isobel Pearson in it and he also loves his Mum. Rob can now be found living in the Cotswolds where more often than not he will be seen pointing a camera of some description up someone's nose.
---
CLAIRE-LOUISE RUFFLE
(Maskerade Ball Organiser)
Claire-Louise (that's Ms Ruffle to you, Paul) is currently Oxford's only dragon breeder. Owner of Lord Philanthropic III of Quirm, a small swamp dragon with delusions of grandeur, she values good chocolate, Jack Daniels, and has an unhealthy interest in very sharp, and often painful, surgical instruments. Not known for her compassion, which could be seen as a slight disadvantage in a Theatre Nurse, Claire-Louise only really gets annoyed when other people make her angry1.
1 i.e. if they shorten her name (Paul!), make disparaging remarks about dragons, or, just generally, breathe.
---


Issues index.
Web pages designed by Derek Moody
December 1997