The L-Space Web: Pratchett Characters
---
Gytha (Nanny) Ogg
---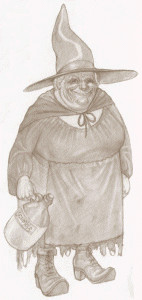 The Ogg family stretchs far and wide in the Ramtops, and Gytha Ogg (known as Nanny) is the matriarch of them all. Being a powerful witch in her own right, she has a knack with people that lets her get on with everyone except her daughters-in-law, whom are confined to a life of servitude in Nanny's house.
She also likes to sing, especially about animals...
Nanny Ogg Skirmishes in the Battle of the sexes in:
Check out casting suggestions at Ultimate Discworld Casting Page.
Casting suggestions:

Pam Ayres, Dorian (Birds of a Feather), Rosanne Barr, Dawn Frech, Miriam Margolyes (Blackadder's Mad Aunt), The Spitting Image puppet of the Queen Mother, Carol Lee Scott, Hattie Jaques, Angela Lansbury, Judy Dench
The L-Space Web is a creation of The L-Space Librarians
This mirror site is maintained by Colm Buckley