Number 1
Present, but correct?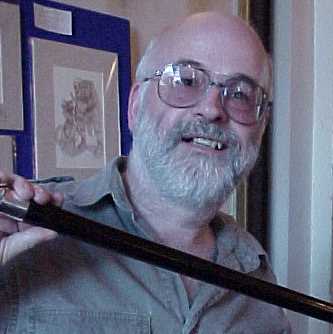 And the 1998 Discworld Convention springs to life! Members arrive and sign in, the Committee goes beyond stress and out the other side, and Guests are pampered and looked after by Paul. And there's this beardy bloke in a hat with a cane who's wandering around being adored by hundreds.
Please peruse your programme to see what wonders we have in store for you. If the thought of slave auctions, gala dinners, and randomly staggering around with a beer in your hand is too much for you, you may well have checked into the wrong hotel. There's another one down the road. Leave now before you get sucked in.
This stunning wonder of prose will (hopefully) be produced daily for your delight and delectation. The press staff are working day and night in order to hone it to perfection - just for you! Feel free to make appreciative noises in our direction to make us feel loved.
Terry would like to make it known that he's concerned about all the beautiful women in the hotel rattling his doorknob late at night like they did at the last Con, so don't do it, alright? He also says he's gobsmacked to see so many of you here, enjoying yourselves, and spending money madly already. This is the most flattering photo of him that we could get.
---
Cosgrove Hall
summary="layout table"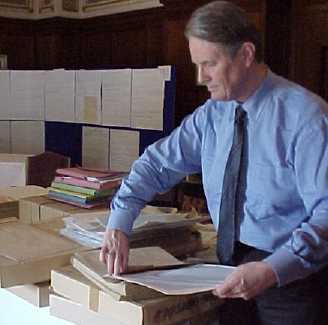 Colin Smythe (Terry's agent) packs backdrops
Cosgrove Hall have very kindly donated ample backdrops from their Discworld films, and each Member is to be given one - that's you! Every Member will be given a blank envelope, and it's totally random as to which backdrop you get - you may get a picture of a brick. But it'll be a genuine Cosgrove Hall picture of a brick. These will be given out tomorrow (Saturday) at the registration desk (in Dragon's Landing) after registration closes - that is, from 2 to 4. Bjorn Bjornsson will be organising this. A further number have been set aside for the charity auctions. These will probably not be pictures of bricks. These prints are extremely impressive, and are hot property. Consider yourself very lucky!
---
Thanks!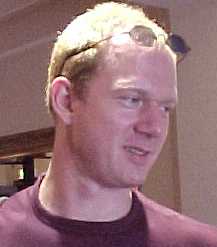 Many thanks to Dr Vielgut for entrusting his precious (and somewhat expensive) digital camera into our oh-so-capable hands - it's thanks to him that this work of literary genius is so decorative.
WANTED!
Claire-Louise is after some willing slaves for the slave auction. Anyone who feels like being auctioned off for an hour should come up to Ops and offer themselves. Manacles are optional.
---


Issues index.
Web pages designed by Derek Moody