Number 3
Maskerade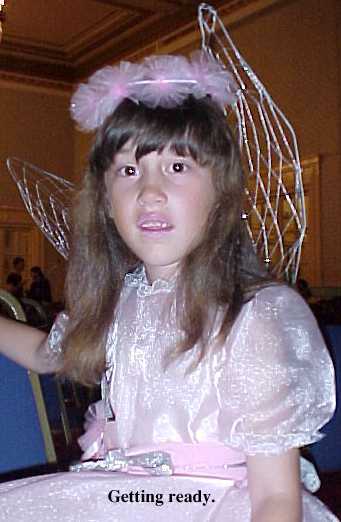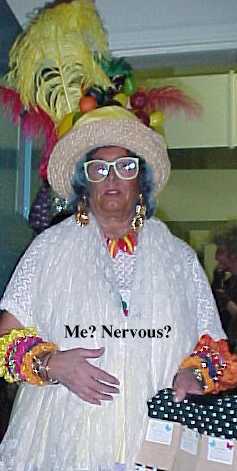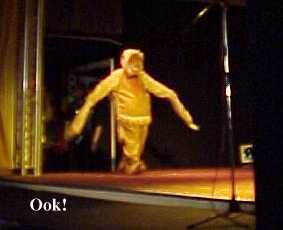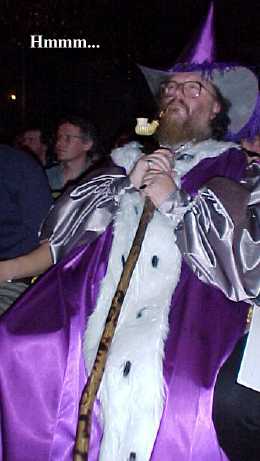 ---
Jewish New Year
Looking for an excuse to drink alcohol before the Maskerade Gala Dinner and Ball? Come and celebrate the Jewish New Year in the Forge between 7 and 7.30 pm on Sunday evening. Anyone welcome, religion optional!
---
The Cunning Artificer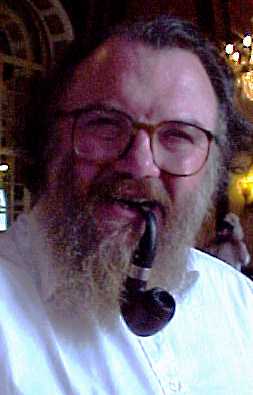 I asked Bernard for a few moments of his time, and he went all poetic on me. Here are his feelings about this weekend...
A Weekend With Friends with the Cunning Artificer
Life is made up of meetings with remarkable men, and of meetings with even more remarkable women. Just occasionally they all come together like some celestial booze up, or conga dance of the Gods. Now, we all know to whose music we dance to, and we all have a different interpretation of the melodies it contains, but the end result is sheer bliss.
---
The Chronicles of Sarnia part 2: A NEW HOPE
by Diane Duane
Meanwhile, the King was upset. He knew his royal Lady wanted a baby, and that there was something wrong, and that no matter how many times she went off for strange therapies like IVF and PMS and CRT, nothing ever happened. And also she cooked things and stared at them until they got cold. This made him depressed. And he was walking in the garden in the cool of the evening when, behold, there was a puff of smoke, and a cloud of broken sulfur bonds and benzene rings, and the Fairy Viagra appeared before him. She was Very Fair1.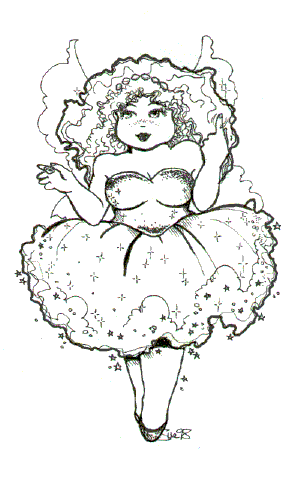 And she said to him, "O King, what is your trouble?" For she was a fairy, and despite the fact that she knew perfectly well what the trouble was, she had to say this, because Fairies are instructed to be a Pain in the Butt. This sorts out the real Problem People from the Timewasters.
And the King said, "O Fairy Viagra, my wife wants a baby, but for some reason we don't seem to have one, and I think perhaps she is starting to develop an eating disorder. And this worries me sore."
The Fairy took pity on the King, and she said, I can help you. Behold these magic bullets."
And she opened her hand, and in it were several small blue pellets of a peculiar shape. And she said to the King, "Listen carefully to what I say. You must take these magic blue pellets and bury them in a well-prepared seed bed, a foot apart, and rake 1/4 inch of soil over them, and water them on the small watering-can rose. And you must on no account succumb to the temptation to swallow one of them with a glass of water."
And the King said, "O Fairy Viagra, I will do as you say." The Fairy said, "You'd better, because you won't be able to get these on the NHS."
And the King went out into the garden, and buried two of the pellets: but the third one looked and smelled very interesting to him, and he started to wonder what would happen if he went and got a glass of water and....
Next: What the King did with the Third Little Blue Pellet, and What Came Of It (hur hur hur)
[1] Stacked.
---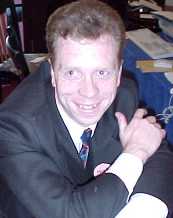 The Rictus is typical of the species - Gary Young is Hotel Assistant Conference & Banqueting Manager and has just encoutered DWCon.
---
Stop Press!
Additional overlays and original drawings - the exciting moving bits for many of the Cosgrove Hall backdrops (about a quarter) have at some point in the process been separated from them. We hope to be able to list the coding from the lucky backdrops in a month or so. This list will appear ONLY in the Discworld Chronicle (Not The Chronicle Live). As such, anyone who hopes to receive one of these rather fabulous cells (of main characters this time, not just backdrops) should subscribe to the Chronicle - subscription forms can be obtained from the Convention tables in the Dealer's Room.
Ooooh
---


Issues index.
Web pages designed by Derek Moody