The L-Space Web: Pratchett Characters
---
The Bursar
---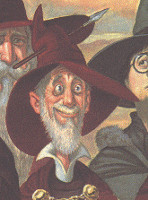 Younger wizards work into the night on alternate realities. What they merely postulate, the Bursar's mind inhabits. Recently saved from Morpok's "Care in the Community" program (which is similar to that in England, but more humane) by virtue of having tenure at the UU, the fact that no-one else understands the University accounts anyway and ever increasing doses of Dried Frog pills.
The Bursur appears in:
Check out casting suggestions at Ultimate Discworld Casting Page.
Casting suggestions:

Robin Williams, Steve Martin, Jasper Carrot, Herbert Lom (Pink Panther (Cluseau's boss)), Peter Davidson, Michael Palin
The L-Space Web is a creation of The L-Space Librarians
This mirror site is maintained by Colm Buckley