The L-Space Web: Pratchett Characters
---
Death
---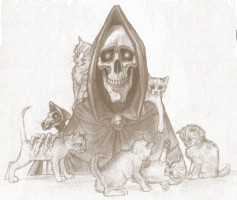 On the magic-saturated Discworld, anthropomorphic personifications take on a life (or, in DEATH's case, an existence) of their own.
Death is a seven-foot tall skeleton with pinpoints of blue fire in his eyesockets; he is not the ruthless destroyer of legend, but rather a timeserver who has all Eternity to serve.
He tries very hard to understand mortals, but this effort is largely negated by his utter lack of anything even remotely resembling a sense of incongruity or a sense of humour. He does care for them, and in Reaper Man he defended them to Azrael against the soullessness of bureaucracy.
Quote:
"THERE'S NO JUSTICE. THERE'S JUST US."

"LORD, WHAT CAN THE HARVEST HOPE FOR, IF NOT THE CARE OF THE REAPER MAN?"
Death can be summoned by the Rite of AshkEnte, which requires either
a) eight eighth-level wizards, a ceremonial octogram, rams' skulls, and dribbly candles
b) three small bits of wood and 2cc of mouse blood, or
c) two small bits of wood and a fresh egg.
Death stalks every book, and gazes upon humanity mainly in:
Check out casting suggestions at Ultimate Discworld Casting Page.
Casting suggestions:

Ivor Cutler (50's stand-up comedian), Richard Wilson, Jack Skellington, stop-action animation as used in The Nightmare Before Christmas, Industrial Light & Magic

Casting suggestions (for voice only):

James Earl Jones, Stephen Moore (Hitch Hiker's Guide), Richard Burton (War of the Worlds), Zen (Blakes 7), Valentine Dyall (Deep Thought), Christopher Lee, Donald Sutherland.
The L-Space Web is a creation of The L-Space Librarians
This mirror site is maintained by Colm Buckley