Welcome to the members' letters page. Air your view on, or ask questions about, the Discworld Chronicle and the Discworld Convention. We'll print as many as we can fit into the space available, and we'll give a prize to whoever submits the Star Letter. Next time, a Convention T-shirt.
---

Dear Editors,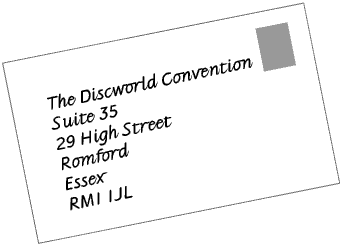 The first Discworld Chronicle was not only great fun to read, but also nice to look at, thanks to the wonderful illustrations (I particularly liked the Greebo cartoon1). Unfortunately, there was no mention of who the artists were. I was wondering if in future editions of the Chronicle you could remedy this situation and include proper credits for the illustrations.
Best regards,Leo Breebaart
Thank you for bringing that to our attention, Leo. The artists who produced the illustrations were: Paul Kidby (front and back1 covers, page 72) Graham Higgins (pages 91, 23 & 343) and Derek Moody (incidental graphics). In this and future issues, graphics will be attributed where possible.

Your Soul Music print is on its way.
1 Not in on line issue.
2 Recipe page - Nanny Ogg
3 Wyrd Sisters, Troll's Puzzles.
---
Dear Paul,
Just to let you know that a spiffy booklet with a posh colour cover arrived here this morning. Well done.
Dave Langford, Ansible
---
Dear Paul,
Thanks for the first issue, which arrived this a.m. Congratulations on a most attractive and informative production. Maybe a bit too much spacing between lines, but that will doubtless vanish as you have to fit more and more in each issue.
Colin Smythe
---
Dear Sir/Madam,

Having recently received the first issue of the Discworld Chronicle, I decided to write a letter enquiring if any other Convention members would like to contact each other by post and just chat about the Discworld novels.

I would love to be contacted by anybody who wishes to talk about the Convention or just Discworld in general.

If anyone would like to contact me, please do so at:

15 Simons Close,
Glossop,
Derbyshire,
SK13 9NE.

Yours faithfully,Keith Lutener
---


Issues index.
Web pages designed by Derek Moody
December 1997