The L-Space Web: Pratchett Characters
---
Great A'tuin
---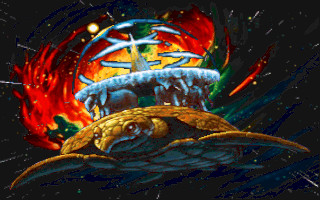 Great A'tuin is the star turtle (genus Chelys Galactica) that carries the Discworld through space. 10,000 miles long and nearly as big as the disc itself, not much is known about A'tuin, even it's sex remains a mystery. A mystery that the astronomers of Krull were determined to solve, unfortunately their space ship - The Potent Voyager - was misappropriated by Rincewind and Twoflower. (See the end of The Colour of Magic).
The Discworld is supported atop A'tuin's back by the four great elephants Berilia, Tubul, Great T'Phon and Jerakeen, and the whole assemblage is circled by the small discworld sun and moon.
Great A'tuin swims through:

All of the Discworld books...
Check out casting suggestions at Ultimate Discworld Casting Page.
The L-Space Web is a creation of The L-Space Librarians
This mirror site is maintained by Colm Buckley