The L-Space Web: Pratchett Characters
---
Mustrum Ridcully
---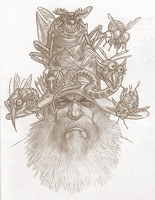 Current Archchancellor of the Unseen University, Ridcully has managed to keep this job by proving hard to kill. His magic skill, his collection of weapons and his addiction to Wow-wow sauce gives Ridcully an outgoing personality, unusual for a wizard where the only outgoing for them is their stomach.
Ridcully can be heard shouting in:
Check out casting suggestions at Ultimate Discworld Casting Page.
Casting suggestions:

Robert Hardy, John Cleese, Willie Rushden, Brian Blessed, Mike McShane, Stephen Fry, Robbie Coltrane, Richard Grifiths
The L-Space Web is a creation of The L-Space Librarians
This mirror site is maintained by Colm Buckley